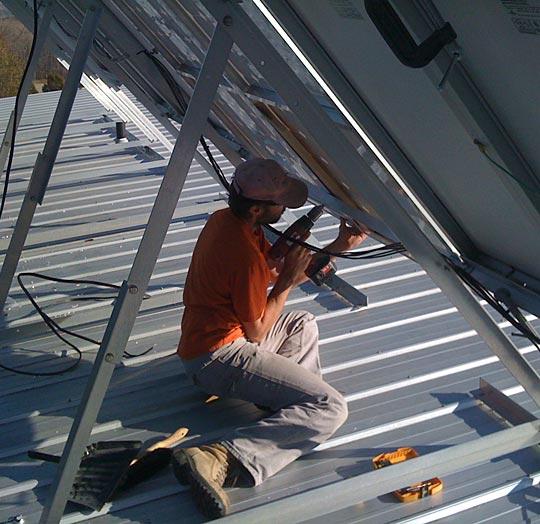 New Panels
Last month we installed two more 175W solar panels to our array. For those keeping track we now have eight 85W BP solar panels, four 165W Sharp panels, and two 175W Sharp panels for a grand total of 1360W.
Unfortunately one of the realities of building an array piecemeal is that the sizes of the panels change from model-to-model and year-to-year. We really didn't want to buy new racks so we decided to modify the existing racks that hold the BP Solar panels. We added two new mounting rails and moved the two existing rails to the sides. The new panels squeeze quite nicely in the middle.
This required that new holes be drilled to mate the horizontal rails to the rack uprights. If you look closely you can see a piece of wood we were using a blocker to prevent us from accidently drilling into the back of a panel. With Dad, J.P. and I it took most of the day to get the racks modified, panels mounted and wired.
Most of the time that we worked Declan played outside in the sand pile (side note: a pleasant side effect of straw bale construction is that you usually end up with enough leftover sand for a good play area.) He's a remarkably self-sufficient kid.
We've been really lucky, so far this fall and we've had lots of sun. We call this time of year the "100 days of grey" because we typically go from late October to early January with little or no sun. In the last four weeks we've had many sunny days and have really seen the benefit of our new panels. Here's a picture of the readout form our Outback MX-60 charge controller. You can see that the panels are bringing in 31.4A but the MX-60 is upping that to 38.3A. Typically we have to run the generator weekly through the 100 days of grey to keep the batteries charged but in the last four weeks we've only run it twice. In addition to saving money on gas, we really appreciate the peace and quiet.
Posted by: Glen

December, 08, 2008