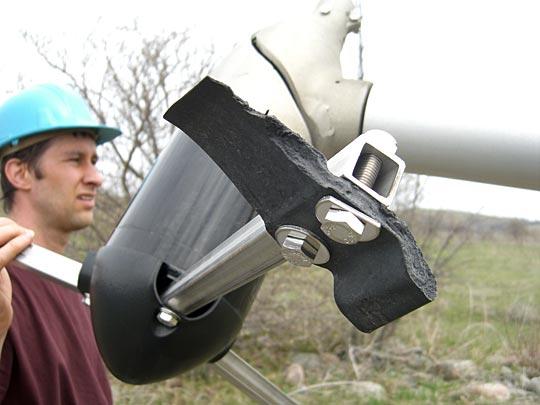 Wind Generator Update
We dropped the tower a couple of weeks ago to see if it was alright before we ordered new blades.
Our main concern was that the bearings and bushings might have been damaged by the vibration of the unbalanced turbine. Once the tower was lowered we took as much of the assembly apart as was feasible, checked the moving parts for excess movement and everything seemed to be just fine. We put the tower back up - the safest place for the tower is up in the air, not down on the ground.
J.P. from Generation Solar ordered us new blades and I figure they'll probably arrive right as the summer doldrums start. Right now it's sunny and there's a strong (though gusty) wind blowing outside. Normally at this time of year there's an abundance of both sun and wind that we never have to run the genset. With the wind generator out of commission we've had to run the genset a few times over the last couple of months. I hate that.
Here's J.P. and a good shot of where one of the blades broke off from the turbine. You can see that the blades snapped off just past where they attach to the turbine. We still have no idea why they broke. We did find the other blade though, it was about 200 metres downhill from the turbine, laying in the grass.
Posted by: Glen

May, 11, 2008