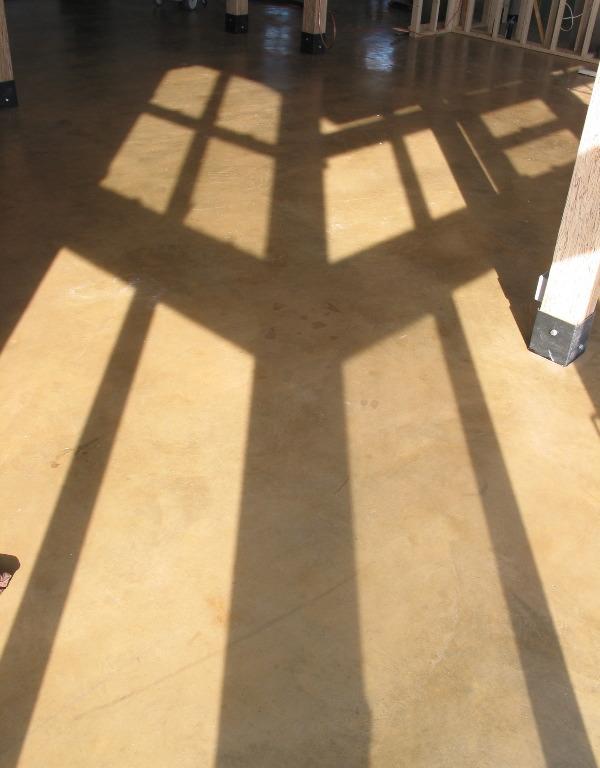 Drywall Part One
Saturday. Beautiful day. Sunny, warm (-2C). The panels were pumping out 10 amps (which is about the max). We ran the generator all day to refresh the batteries. The timer seems to be working, Dad ran the generator on Monday, and it wasn't run again until today. The batteries seemed to be just fine.
I got lucky again at Eurolite, somebody returned five of the lights we wanted to use in the kitchen, so they gave us a deal. Earlier we lucked out with the fans. We like Eurolite, they're good people.
So today I hung the first kitchen light to see what they'll look like. I'm going to Photoshop in all five at the proper heights, I might post the pic. We also took delivery of this really fantastic Italian florescent fixture, two 4' skinny tubes and one hell of a reflector makes a bright bright light. Plus an electronic ballast for low noise. So I put that in the battery room and it really helps.
Mom continued her taping, she'll be happy when that job's done. Dad worked on the bathroom doors. And then, after lunch, we drywalled. Yessir, nothing says fun like drywallin'. We got one wall and the ceiling done, taping and mudding tomorrow. We're thinking of doing the entire west wall in tongue and groove cedar. After we got home Dad and I spent a couple of hours planing and jointing some of our cedar. It looks like we've got enough for the west, north and south walls. "But Glen," you say. "What will you do behind the shower?" Hey all of that boat building experience hasn't gone to waste, we're going to put a layer of fibreglass and epoxy over the wood in the shower stall.
This morning and this afternoon I took the dogs for a walk. Apparently all of the rain that we got in Toronto last week was snow up here. The snow is up to my knees in the bush. That's a serious impediment to the dogs. They are exhausted.
Last, but absolutely not least, a big congratulations to Steven and Laurie who just gave birth to their first child, an (undoubtedly) beautiful baby girl named Malaika. Way to go guys!
I have no pictures of the baby, but I did take pictures at the house.
Posted by: Glen

March, 01, 2003