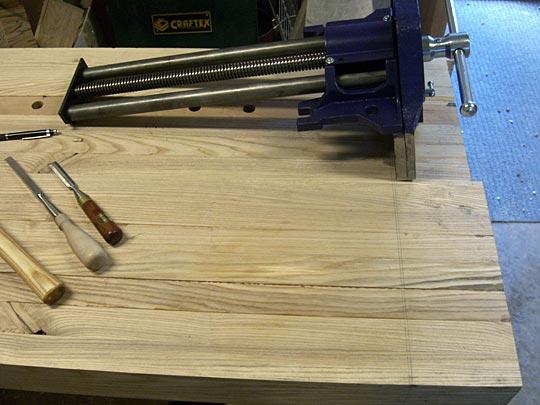 Bench Update
There hasn't been a huge amount of progress on the bench this week. Both side have been planed (relatively) flat. The top will get a final touch up once the bottom has been completed and attached. Unfortunately some of the boards have pretty nasty grain and I've had problems with tear-out. I may splurge and buy a smaller low-angle plane to do the final surfacing.
This weekend I cut then ends of the bench square and started installing the end vise. The end vise is let into the end of the bench. Cutting out the inset involved lots of small kerfs and then chopping out the waste with a mortise chisel. I only have one mortise chisel, it's a 3/8" Lie-Nielsen with an Ironwood handle. Ironwood is the hardest wood that grows in North America (we have a lot of it on the land) and you can tell. After an several hours of bashing on the chisel with a maple faced hammer the hammer is dented and the chisel handle looks brand new.
Now that the inset is cut the vise can be mounted. Hopefully I'll get to that some evening this week. Next weekend I'm hoping to get the twin-screw vise mounted. Once both vises are mounted I'll flip the bench on the saw horses and start building the bottom. I'm planning to build the entire lower structure with hand tools, including sawing the tenons and wasting out the mortises. It'll be hard work but I need the practice and most of these joints are hidden and don't have to be pretty.
Posted by: Glen

April, 20, 2008