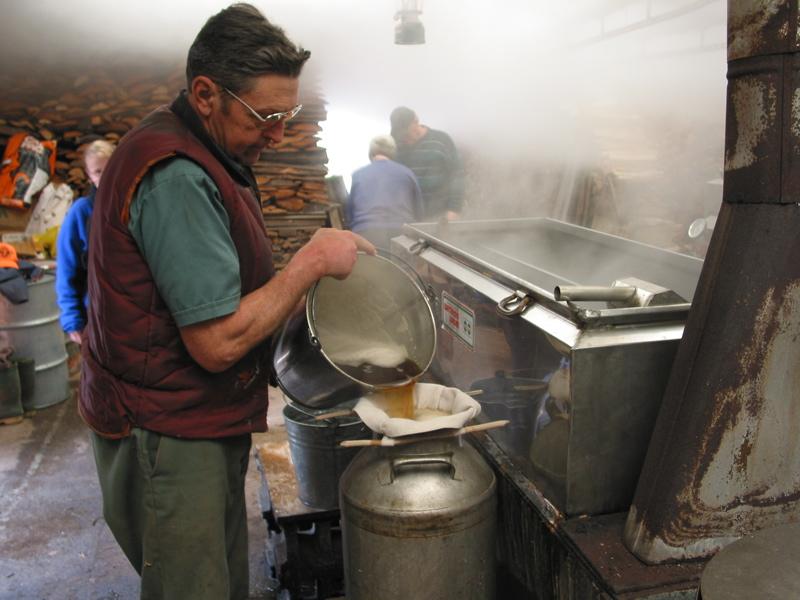 Making Maple Syrup
Many of our neighbours tap trees and make maple syrup. In our little area there are several good sized operations and one of our neighbours has even won a few 'World Champion' ribbons for his syrup (I add the quotes because maple syrup is only made in Ontario, Quebec and a few north-eastern states).
Our neighbour Allen invited us over today to watch them boiling off the sap to make syrup. Allen has quite the operation, he has a dedicated sugar shack with a large evaporator. He can boil off 500 gallons of sap at a time. The ratio of sap to syrup is 40 to 1. So 500 gallons of sap will boil down to about 12 gallons of syrup. Allen has 500 trees tapped, some people hang line from tap to tap ending at a 50 gallon drum. All of Allen's trees are hung with taps and buckets. When the sap runs they go from tree to tree and empty each bucket to get the sap. They used to have around 1100 trees tapped but are scaling back the operation.
Tomorrow I'm going back to help with collecting the sap and more of the boiling. Allen gave us a sample to bring home and it is very good stuff. Sometime in the future I plan on tapping a bunch of my trees and making some of my own syrup. They sell small evaporators for the 'hobbyist'.
Here's a bunch of pictures with explanations.
Posted by: Glen

April, 08, 2004