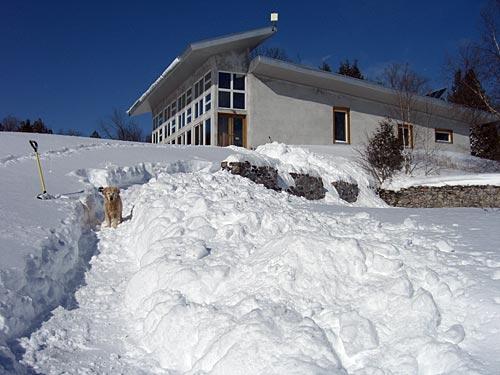 March Update - Snow, Photoshoots and the Return of Sun
We had a huge dump of snow in the last 24 hours. It's the biggest snowfall in the time that we have lived here. There's at least three feet of snow in most places and more in the drifts. It took Joanne and I a couple of hours to shovel down to the cars and clear around them. Even so we're not going anywhere until the driveway gets plowed out.
I love the snow so for me this is great, I'll be heading off into the bush with my snowshoes following animal tracks and watching for the birds. I love trekking through the parts of the land that are normally too wet and inaccessible in the warmer months.
The week before last we had a camera crew here from an Australian magazine taking pictures of the house. So we had Gil take some pictures of them while they took pictures of us.
Now that we've left the grey grey grey months of November, December, January and February we're producing lots of power again. Those months are what we usually refer to as the "100 Days of Grey" because the sun rarely makes any substantial appearance. We make a fair bit of power off the wind generator at this time of the year, but we still have to run the gas generator far too often for my tastes. Through the worst parts of December and January we have to run the generator about once per week. By that I mean that we run one full tank of gas through the genset, which lasts for about 7 hours.
Around mid-February the sun starts to make more regular appearances and especially in those brutally cold -20C and -30C days we can do quite well. As we move into March we tend to get both sun and wind - today we've been generating about 25A from the solar panels and between 10A and 15A all day from the wind generator. As a result we've run the dishwasher, and done five loads of laundry and we're still making tons of power. We haven't run the generator in about four weeks.
Posted by: Glen

March, 09, 2008