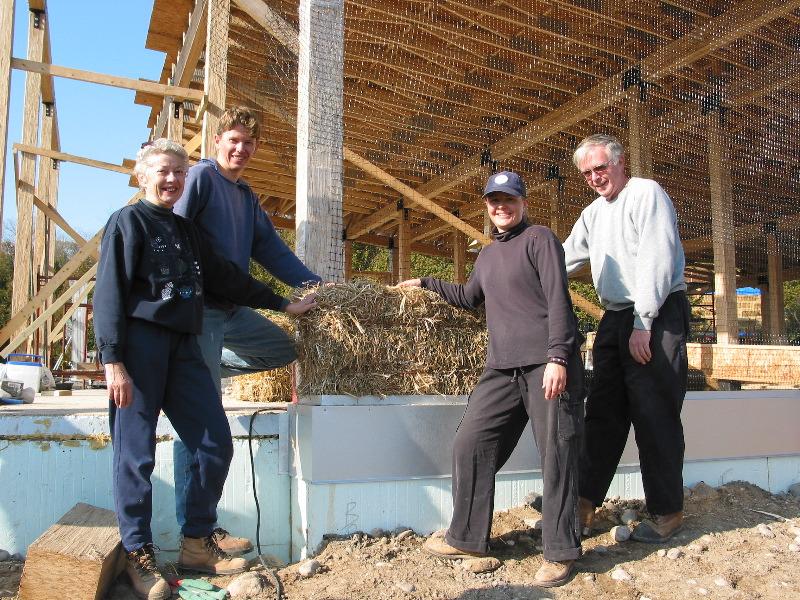 Today We Baled - Part One: Saturday
What a great day. A chaotic whirlwind of a great day. From 8am to 9:30 we did prep work, by which time the majority of our volunteers had arrived. Also in attendence were the building inspector (Andy Van Hoof) and Paul Dowsett (the architect). Then we gathered round for a quick demo on how to tie half and part bales. We moved to the other side and had a small ceremony when we placed the first bale. We wanted my parents to be there helping do that because without them this house would not be where it is now, and there is as much of their sweat and effort in this house as ours.
Then they stacked.
I say they stacked because when we placed the first bale Tina (from Camel's Back Construction) explained that the owners place the first bale because frequently they end up so busy during the day with little details that they never get to place another one. Boy was that true. Every time I tried to place a bale or do some 'real' work I'd hear, "Glen, could you come over here and answer a question?" My father said the whole day was like that for him as well. I figure over the course of the day I got to place about 6 bales, grind one, whack one, and stuff a bunch of gaps. But I tell you few things can top seeing your friends and family all with huge smiles on their faces building up the walls and all saying how totally cool they thought the whole experience was. I'm sad that my cousin Phil had to miss it (due to serious hockey accident) and that Ian and Tiffany couldn't be there (they're coming Sunday).
The east wall was the Jason, Kimmy, Chrissy wall, with a bunch of help from Aunt Joan, and my mom. Two Camel's Back volunteers, Vince and Dave, also helped with the back portion and corner.
The north wall was the Karen, Jay (yes, a Jay and a Jason), Jenn and Neil wall, with lots of help from Steve, another Camel's Backer. Neil took to the grinder like he was born with one in his hand - a mental image that would surprise no-one who knows him.
Paul and I started the west wall. Then both of us got diverted, I mostly saw Jay, Dana, my Mom, and Joanne. It was the real pot-luck wall, everybody threw in a bale.
We got tons of work done, and as an added bonus Dave McCracken came out and he and my father got the last corner finished. Rene and Dave quickly had the west side planked and later in the afternoon Mike showed up and they got started on the ice and water shield. They got 2/3 of the roof done before they ran out of shield. We've bought the rest and if the rain holds off we'll get that done tomorrow.
All in all an incredible, fantastic, fun, exciting day. I am so thankful to all of our friends and family who came out to help. I've had fun building this house, I've learned alot, but this is the first day that I can say that I've really had fun. The first day building the house that I've felt really happy.
We took tons of pictures, here's a bunch - two pages!
Posted by: Glen

November, 09, 2002