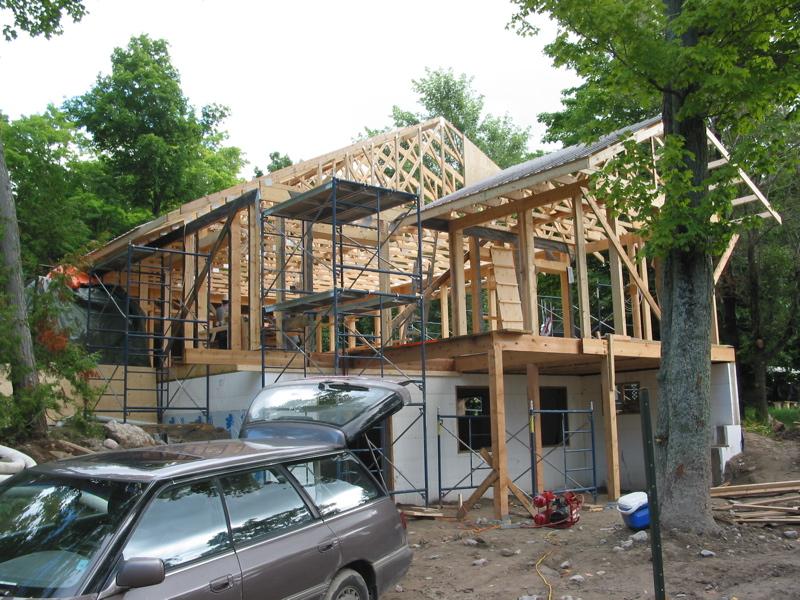 Coboconk House
I spent a good portion of the week helping build a straw bale cottage up on Balsam Lake. The property is owned by a lovely lady named Gerarda Schouten, a retired schoolteacher who has decided to make the lake her home.
It's a nice simple design with a bright and airy main floor for Gerarda, with a deck and straw bale sunroom, and a walkout basement with full guest quarters.
We've been doing bale work for the last two weeks, stacking, stuffing and stitching, work that I didn't get to do much of on my own house. When we were doing the bale work here I spent most of my time dealing with the building inspector, the roof, the architect, and the infinite number of other questions that cropped up. It's a running joke with Pete and Tina that the owners stack the first bale because they might not get a chance to stack another! At least not until the next day when things have generally calmed down. Next week they'll be plastering and I'll be out there again for a couple of days, baling isn't easy work but plastering is HARD work.
A reporter came out from the Lindsay Daily Post to do an article on Gerarda and her new home.
But what you really want are the pictures… right?
Posted by: Glen

August, 20, 2004