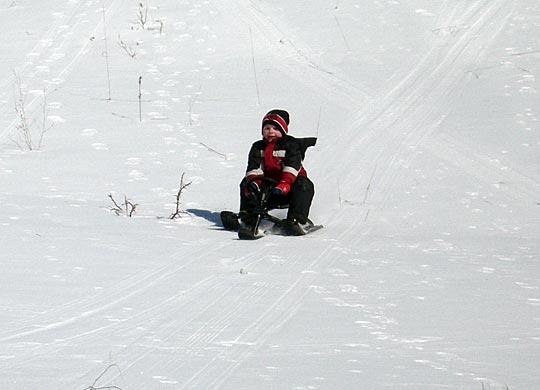 Tobogganing
The tobogganing conditions the last couple of weeks have been stellar. We have 2' of hard pack snow than runs smooth down the back hills and almost right to the house. Conditions are best in the morning after a good cold night when the crust is still frozen. By mid-afternoon this crust is slushy and the hills are slower.
This is the view from the top.
Of course to get there you have quite a walk ahead of you.
Savour the view for a few minutes, catch your breath and then it's time to come down.
The run from the top is too long and steep for the kids to do themselves but there is a nice hill about half way that Gil can handle on his own. The longest runs are around 300m. We toboggan from the back property line almost all the way to the house for our final run.
Though sometimes speed gets the better of you and you and the GT part company.
Declan thinks that a soother counts as protective headgear.
Posted by: Glen

March, 29, 2008