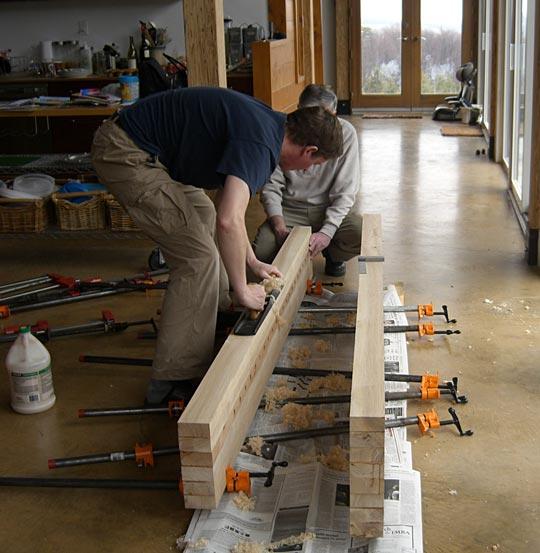 Making the Bench Top
Holy crap I'm tired.
Dad and I started glueing up the bench top very early Thursday morning. The idea was that I could be there first thing in the morning, get one section glued up, then come home work all day, and head back up there right before dinner to glue up the next section. Then after dinner (thanks Mom!) we'd glue up a third section. With the top made up of fourteen pieces of wood we'd have make up four sections of three boards and one section of two boards. Those would then be jointed, planed and then glued to one another to form the bench top.
That worked very well on Thursday. So on Friday I arrived early and we got our first glue up done and clamped. Then we carried the glued up sections from Dad's basement out to the back garage so that we could joint and plane them. Then we took them back to the basement again.
We figured that we would get the top to the point where we had an eight board section and a six board section, when we would transport those to my house for the final glue up. We didn't think that we'd be strong enough to carry the completed table top out of Dad's basement.
We almost weren't strong enough to carry the two halves out of Dad's basement.
And so, we made our first mistake. It was so much trouble getting the halves out of the basement we decided not to carry them to the back garage and plane them. "I'll do them by hand" I said. "It'll be fine!" Oh boy.
Once home we laid out the two halves on what I figured is the flattest section of floor in the house. Right at the front of the house. Joanne and I wrestled the two sections out of the truck and Gil and Declan carried all of the clamps from the back room to the front. By the way, I know that looks like a lot of clamps. It isn't. There is no such thing as 'enough clamps'.
So once we had everything ready Dad and I trial fitted the two pieces and found, to our surprise that they didn't meet properly. Oh well, out comes the jointer plane, and I start taking strips off the edges of the sections. Now bear in mind that I'm fairly new to hand tools. To this point I've 'six-squared' several small boards, but the bench is two feet wide and seven feet long. Most of my planing exeprience has been with a #5 Jack plane but compared to a #7 jointer plane it's practically a toy. The #7 is a significant hunk of metal. Once you get that thing moving it actually creates its own gravitational field. I do not recommend using it hunched over like that, much stretching was required afterwards.
So with the edges squared up we applied the glue with Declan's supervision.
Then we clamped it.
While the glue was drying Dad and I drove in to the city to go to Lee Valley for the bench vises. I'm using the Veritas Twin screw vise as the face vise, and a large quick release steel vise as the end vise.
But those cannot be installed until the bench top has been flattened. By not carrying the two bench sections out to plane them I have guaranteed that by the time this bench is flat I will no longer be inexperienced with a #7 jointer plane. I have also discovered a wide variety of muscles that are apparently only used when planing. I'm nearly done one side, but I'm done for today. I intend to pour myself a generous portion of Highland Park 18 year-old and emulate Declan.
Posted by: Glen

April, 13, 2008