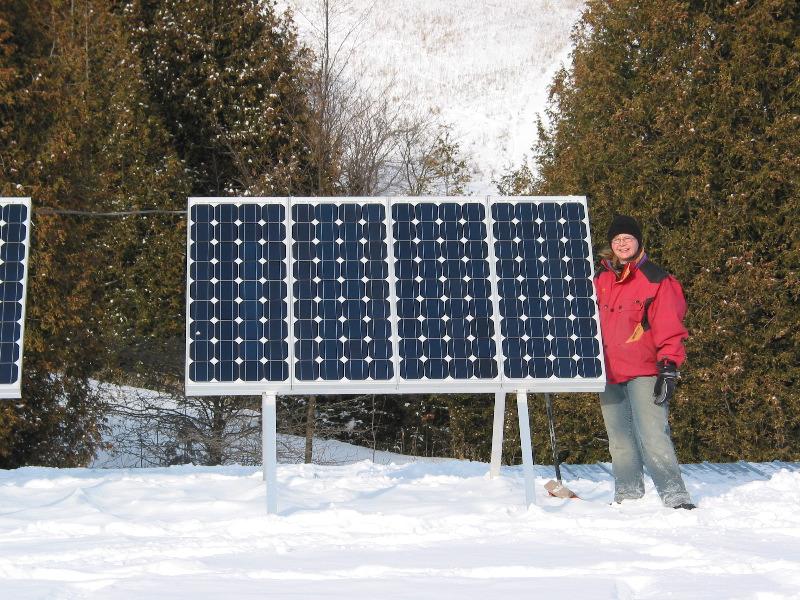 The Restorative Powers of Soup
The insulation is pretty much done so the house is no longer hemorrhaging hot air. Dad guessed within 6 bags how much insulation we needed, a pretty impressive feat. He's buying the rest on Monday. He'll also be trying to coordinate the propane guys and Dan Peel to get the gas hooked up to the boiler so that we can start heating the place. (You've all been chanting right? 'Cause it does seem to be working….)
The sun made an appearance just after lunch and a whole bunch of cool things happened. First the temperature inside the house rose to nearly zero. All the insulation seems to be working. I went up on the roof and brushed last nights snow off of the panels and the batteries are (we think) fully charged.
There's about 12" of snow in some places on the roof but near the back windows (north side of the cupola) there's nothing. I don't think that it's just because of the overhang. Paul said that he thought that the wind would cause a sort of vortex as it blew under the overhang and above the roof. It would appear that Paul was right. Hey, don't look at me, I'm as surprised as anyone. (Hi Paul!)
I'll explain about the soup later, but today, it was chicken noodle. Yesterday it was potato bacon, my personal favorite.
Posted by: Glen

January, 26, 2003