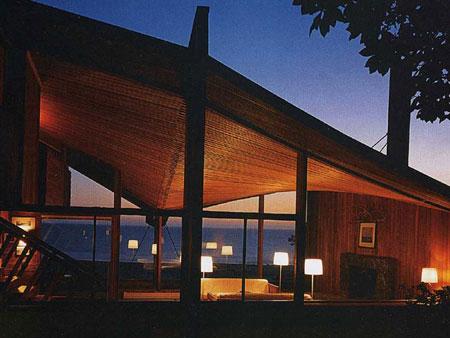 What's happening this summer - inside
It's going to be a busy summer.
Joanne is pregnant with #2, and so Gil is going to have to move out of the nursury, and into his own room. At the moment my office occupies the space that will be his room. The office has to go, the space needs walls, but before that the space needs a ceiling.
Here's a view of the currrent floorplan along with notations.
The new office. Just a long slim desk along the back wall. Simple clean, and I'm still working out how to hide the cables and computers
Bedroom wall. This wall will be floor to ceiling bookshelves just like it's opposite (bordering the master bedroom. The top area will be triangular pieces of sandblasted glass to let in light and maintain privacy.
Bedroom wall. This wall will be clad with panel or drywall on the bedroom side and T&G cedar on the living room side. It will be built to move to expand the size of the bedroom when the time comes to break it into two rooms.
Linen Closet. Lined with all of my leftover aromatic cedar
Bedroom Door. We're going need to enforce some privacy soon.
Odd, there doesn't seem to be a number six…
This space is currently the nursury, but it is plumbed to be an ensuite. When competition for the main bathroom gets too fierce, we get our own.
Walk-in closet. Lined with aromatic cedar. Staining is done, but it needs some trim and sliding doors.
Front hall closet. Lined with aromatic cedar, it needs sliding doors, and some better shelves for seasonal storage.
Before the walls for Gil's room can be built a ceiling must be installed.
The Ceiling
Many ideas have been floated for how to cover our ceiling. Right now it's just vapour barrier over insulation. Functional, but not terribly attractive.
Drywall: We hate drywall. And installing it after you've moved in? On 2000 sq/ft of ceiling, I don't think so.
Plywood: Nice concept, and I've seen it done well, but a huge amount of work, very tough to get the edges clean and straight, and very hard for two people to do, over their heads day after day. I've undertaken a fairly exhaustive search for pre-finished T&G plywood, and well, it doesn't seem to exist. I can get prefinished, but it's VERY expensive. Or I can get T&G but it's used for subfloors and is very rough.
Tongue and Groove Wood: Similar to what you'd use for flooring. It's expensive if you buy pre-finished, but unfinished Western Red Cedar is not too bad. VERY nice looks, somewhat expensive. Now I'd rather use my own wood, but my cedar is way too knotty to use for a ceiling, not to mention that most of the cedar I have right now is slated to be used in decks. I have some maple, ash and black cherry, but nowhere near the quantities I'd need for the ceiling, and it won't be dry for a couple of years if I don't get a kiln built. Then there is the work involved in planing, jointing, routing and finishing 2500 sq/ft worth of hard wood. I don't mind doing the work, but I don't see having that kind of time in the forseeable future. As the old addage of freelance work goes, "You either have money or time. You never have both."
What we're concentrating on now is the back ceiling, the ceiling over the bedrooms and open area. The 'hallway' and gallery will likely be done the same way. But I have greater ambitions for the front part of the house. I thought I'd share a few of my inspirational images with you.
Oh man, what a ceiling. We can't pull off something that daring, we don't have the space to allow a drop like that, but I'm seriously thinking that a wave effect, done with straight boards could be very effective as well.
Eventscape makes cool tensioned fabric errr… things. Layered I think it would be very cool as a ceiling, but probably expensive.
Yes, that is industrial felt. Great because it's rigid enough to hold a shape, and it absorbs sound. A big consideration when you've built a house that's largely open concept, and more than somewhat reflective.
Posted by: Glen

April, 20, 2005